When you come home after a long day at work, cooking a healthy dinner is probably the last thing on your mind.
And if you're trying to lose weight, getting home tired and eating whatever's closest in the fridge isn't going to help you make any progress.
We put together 5 great weight loss dinner ideas that you can quickly cook and enjoy.
We included recipes for those who like to have big meals for dinner, as well as for those who might usually skip dinner.
Truth is, if you're really trying to lose weight, skipping dinner isn't going to do you any favors.
Unless you're fasting when dinner time's on, skipping meals will just lead to more snacking and less progress when it comes to weight loss.
Our list today features a number of low-calorie recipes to help you feel full and healthier in a sustainable way.
Following some of the ideas in this list will help you make progress in your weight loss journey, but if you're really serious about your goal, Miboko is the next step for you.
Miboko tracks how your metabolism reacts to food and offers tailored suggestions without cutting out entire food groups or asking you to train for hours at the gym.
Sign up now to be among the first to know when it's live and ready for you.
What are the best weight loss dinner ideas?
There isn't a set dinner that's perfect for everybody, it depends on what you can and want to eat.
Today we bring you a selection of healthy foods that'll help anybody enjoy a good weight loss dinner (plus recipes).
Let's get into the foods you need to add to your plans for healthy meals that help you hit your weight loss goals:
1. Salad
Salads are a great weight loss dinner idea, but you need to be careful with what you put in them or they can very quickly become unhealthy.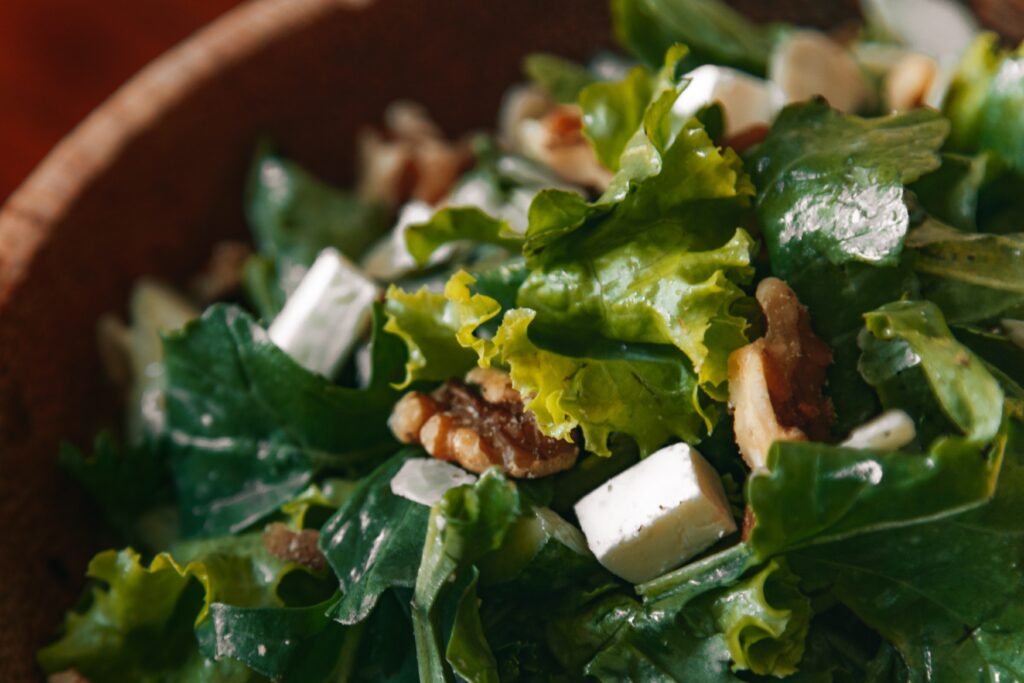 Salads are a great way of making sure you eat your veggies, but you also need to balance them with the right amount of protein and carbs to make sure you're taking full advantage of this weight loss dinner idea.
They're very easy to put together and a great source of fiber, packed with nutrients, and great for weight control.
Make sure you avoid loading your salad with toppings or fatty sauces, and add weight-loss-friendly protein (if you want to include chicken, use grilled chicken instead of deep-fried chicken).
Take a look at this turkey BLT salad to keep you full and healthy before bed:
With 230 calories per serving, this is a filling option that's easy to make, healthy, nutritious, and quick.
Ingredients (4 servings)
2 slices sandwich bread (cut them into cubes)
½ tbsp oil
2-4 strips bacon (cook them and crumble them)
1 large tomato (chopped)
½ cucumber (chopped)
8 oz roast turkey (cut it into cubes)
1 head of romaine lettuce (chopped)
Low fat ranch dressing.
Directions
Step 1
Preheat your oven (400°F). When the oven's ready, put the bread cubes with a small amount of oil on a baking sheet, and bake them until they're golden and crispy (around 10 minutes).
Step 2
In a salad bowl, mix together your bread and bacon crumbs, chopped tomato, cucumber, turkey, and lettuce.
Step 3
Add enough dressing to lightly coat everything and toss your salad so that it's evenly distributed.
Step 4
Enjoy!
2. Eggs
Eggs are as healthy as they are versatile. Whether you boil, poach, or scramble them, they make a tasty, cheap, and easy dinner addition to your weight loss plan.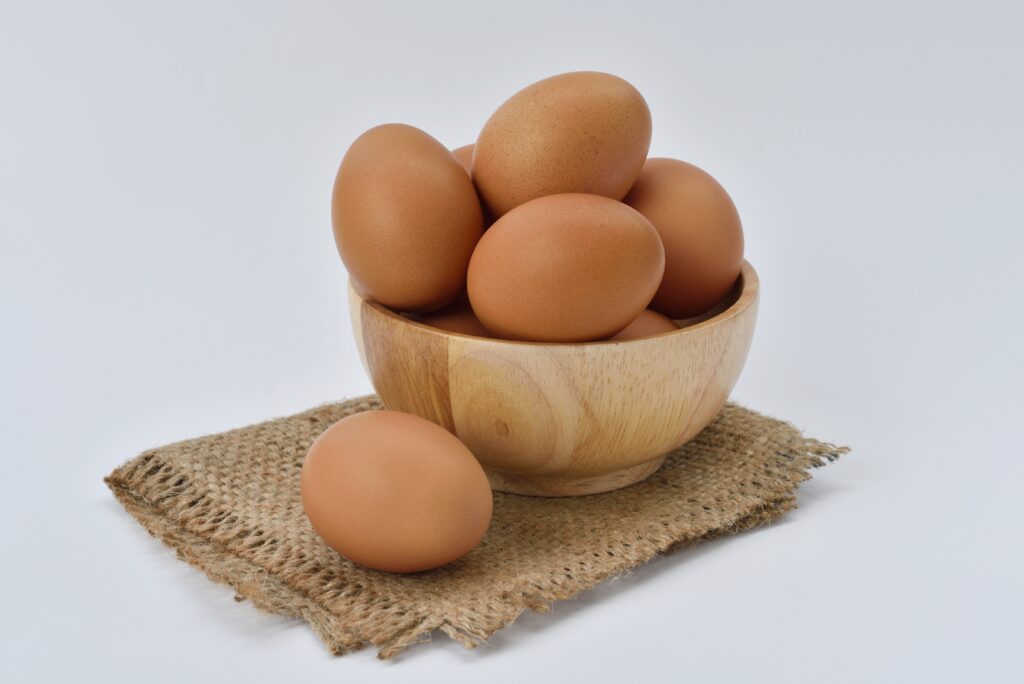 Eggs are highly nutritious, and they're full of protein and healthy fats without having too many calories.
They rank high in the satiety index because they help you feel full for longer. This is because they're full of protein, which helps you feel satisfied and helps you manage your weight and avoid unhealthy snacks.
You can combine eggs with hundreds of different ingredients and get an amazing meal.
Today we're looking at this healthy loaded vegetable frittata recipe.
With 250 calories per serving, 20 g of protein, and 8 g of fiber, this meal takes very little time and effort, and the results are delicious!
Ingredients (4 servings)
1-2 slices bacon (chopped)
1 ½ cups button mushrooms (chopped)
½ cup onion (chopped)
½ cup red pepper (chopped)
1 cup broccoli florets (guessed it, chopped)
6 eggs
4 egg whites
2 tbsp basil (chopped)
¼ tsp salt
¼ tsp black pepper
¼ cup reduced-fat cheddar cheese (shredded)
Directions
Step 1
Preheat your grill and get hold of a grill-safe pan or skillet. In that pan, cook your bacon (medium heat) until crisp. Drain the bacon on a plate lined with a paper towel and put aside.
Step 2
Cook your red pepper, mushrooms, and onion in the pan (around 3 minutes). Add the broccoli and cook for 3 more minutes until all the veggies are tender. Add your reserved bacon and stir.
Step 3
Whisk your eggs, egg whites, basil, salt, and pepper in a bowl. When you've mixed them well, pour the mixture over the vegetables in your pan and cook over medium heat. As your frittata starts to cook, move a spatula around the edge of your pan and lift your egg mixture so that any uncooked egg can flow underneath. Cook until the mixture is almost set and sprinkle with cheese.
Step 4
Put your pan on the grill and keep it there for 1-2 minutes, or until the cheese is melted and the top is set.
3. Avocado
Avocados are healthy, tasty, widely available, and super easy to turn into a meal. Definitely a great contender for our weight loss dinner ideas list.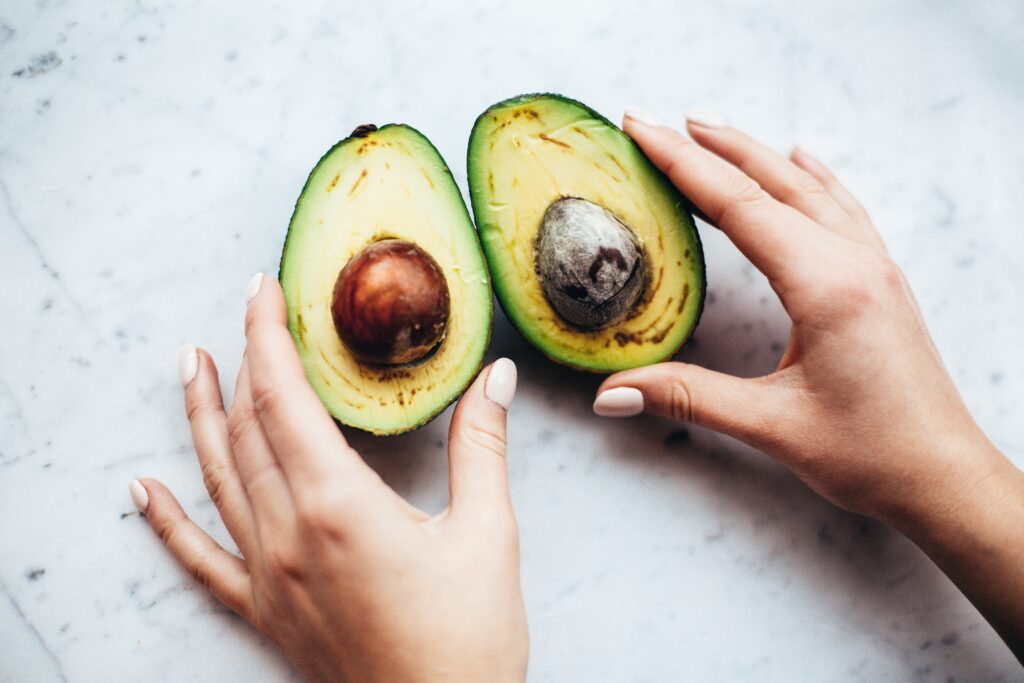 Avocados are full of nutrients, high in healthy fats and fiber, and may reduce your risk of heart disease.
They're calorie-rich, so you need to be careful as to how much avocado you eat while on a calorie deficit diet, just stick to moderate portions.
There are some limited studies that suggest avocados may prevent weight gain by helping you feel fuller after eating them.
If you like avocados and want to lose weight, don't be scared of adding them to your diet.
As long as you control how much avocado you eat, you'll be able to enjoy its many health benefits.
With 179 calories per serving and 3.9 g of protein, this low-calorie avocado on toast recipe takes about 5 minutes to prep, so time is no longer an excuse!
Let's check it out:
Ingredients (1 serving)
1 slice sourdough bread
1/4 avocado (sliced or smashed, however you like it)
1 egg (scrambled, poached, or boiled)
Salt
Pepper
Directions
Step 1
Toast a slice of bread and cut your avocado into slices, or smash it.
Step 2
Scramble, poach, or boil your egg.
Step 3
Put the avocado on top of your toasted slice and top with the egg and season to taste.
4. Soup
Soup is healthy, versatile, filling, and a very good meal to add to your meal plan for weight loss.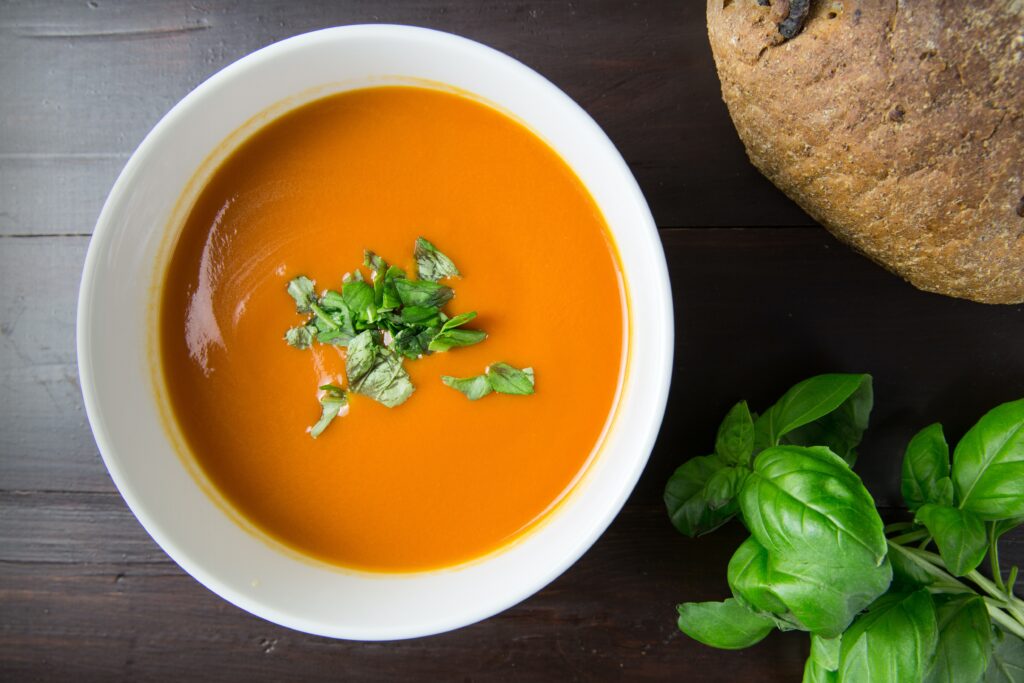 Apart from making you feel good and warm in the colder months, soup also helps you feel full, helping you avoid overeating.
It's a great way to have your vegetables and protein together, and let's face it, nothing beats a homemade soup.
If you have the time, you should try making your own.
When you buy a tin of soup, you don't really know what's in it, and some soups in the market have a lot of fat in them.
When you make your own, you know exactly what you're putting into it, and you can make sure it's as healthy as it can be.
Whether you buy a tin of soup or you make it yourself, make sure your soup doesn't have any cream or butter, and that it contains a source of protein.
It'll help you feel even fuller.
With 121 calories per serving, this tucan white bean soup will blow your mind!
Ingredients (8 servings)
2 tbsp olive oil
1 small onion (finely diced)
2 cloves garlic (minced)
2 celery stalks (chopped)
2 large carrots (chopped)
2 zucchini(chopped)
3 cups kale (chopped)
1 can roasted diced tomatoes
1 can cannellini beans
2 tbsp tomato paste
4 cups vegetable broth
2 tsp dried thyme
2 tsp dried oregano
2 tsp dried basil
1 tsp salt
½ tsp black pepper
¼ tsp red pepper flakes
Directions
Step 1
Sauté your vegetables in a pot (medium heat) with olive oil. You'll want to sauté your carrots, onions, celery, and a pinch of salt for about 4 minutes. Then, add zucchini and garlic and keep cooking for another 3 minutes.
Step 2
Add your diced tomatoes and tomato paste, beans, vegetable broth, and all the spices. Cover and let it simmer for about 30 minutes (stir every now and again). After 30 minutes, turn the heat down and add in the kale leaves.
Step 3
Taste and serve. This is the time to adjust any spices (does it need more salt? More red pepper flakes?)
5. Fruit
Fruit is a great addition for dinner on those days when you're not feeling overly hungry or you just want a quick bite before bed.
Some days it's hard to get your 5 a day, and a fruit salad is a great way of finishing the day and hitting your goal.
Different fruits bring you different benefits, so let us list some:
If you want a quick and healthy dinner to finish your day on a healthy note, check this fruit salad recipe.
With 65 calories per serving and a total cooking time of 10 minutes, this recipe is sure to send you to bed feeling full and satisfied.
Ingredients (8 servings)
1 cup strawberries (halved)
1 peach (pitted and cut into chunks)
1 kiwi (peeled and cut into chunks)
1 cup blueberries
1 cup raspberries
1 cup grapes
1 cup watermelon cut into bite-sized chunks
1 orange (squeezed, we want the juice)
1 tbsp apple cider vinegar
1 tsp honey
Directions
Step 1
Whisk the orange juice, honey, and vinegar in a bowl.
Step 2
Combine all the fruit in a larger bowl.
Step 3
Pour the dressing over the fruit salad, and toss it to make sure all parts of the salad are equally coated.
Will these weight loss dinner ideas help you hit your health goals?
Having a meal plan and following through with it is the key to success in your weight loss journey.
If you include any of these ideas in a balanced meal plan designed to help you lose weight, then yes, these ideas will help.
If you just have a healthy dinner once a week and expect to hit your weight goal sustainably, then it's most likely not gonna work.
Losing weight is a process, and it takes time.
That's why having a plan in place is one of the best things you can do when you decide to go for it.
And these weight loss dinner ideas are great for the meal plan of those who are serious about losing weight and keeping it off.
If you also want to check your progress throughout your journey, we have just the thing for you.
Miboko helps you track and log your meals while giving you tailored advice based on how your body metabolizes different food.
Miboko will help you build a new relationship with food so that you can look and feel your best without giving up the meals you love or spending an eternity at the gym.
Sign up to our mailing list and we'll let you know when our world-first sensor is ready for you.