Finding tasty, easy, and fun-to-make weight loss lunch ideas isn't easy.  
Trying to find the time to cook something healthy right in the middle of your day is anything but easy.   
Maybe you eat on the go, or maybe you're rushing from place to place with barely any time to think about your meals, or perhaps you simply don't have the energy to cook anything healthy.  
If any of this sounds familiar, fear not. 
We've compiled 5 incredible weight loss foods that fit perfectly with lunchtimes on busy days to help you:
Lose weight
Feel fuller for longer to avoid cravings
Make planning your next lunch super simple
We've also added some quick and easy low-calorie lunch recipes to make your meal planning even smoother.  
Including these foods in your lunch will help you start your weight-loss journey on the right foot, but if you're serious about your goals and want to track your progress, our Miboko app is the best next step to follow.
Miboko's world-first technology monitors the way your metabolism reacts to food and gives you specific advice on the foods that work for you. 
With Miboko's support, you can track your progress and feel better than ever without restricting your food or sacrificing meals.
Sign up now to be among the first to know when it's live and ready for you.
What are the best weight loss foods to have for lunch?
It's often difficult to guarantee a healthy meal for your lunch.  
There's a lot going on and finding the time to not only plan a healthy lunch but also cook and eat it can feel impossible.  
The foods recommended below aren't just based on research into healthy foods, but are also easy to prepare so you can stay consistent with your weight loss plan.  
Let's get into the foods you need to add to your plans for healthy lunches that help you hit your weight loss goals. 
Salmon is a great weight-loss food choice. It's packed with protein and omega-3 fatty acids and contains loads of vitamins and minerals.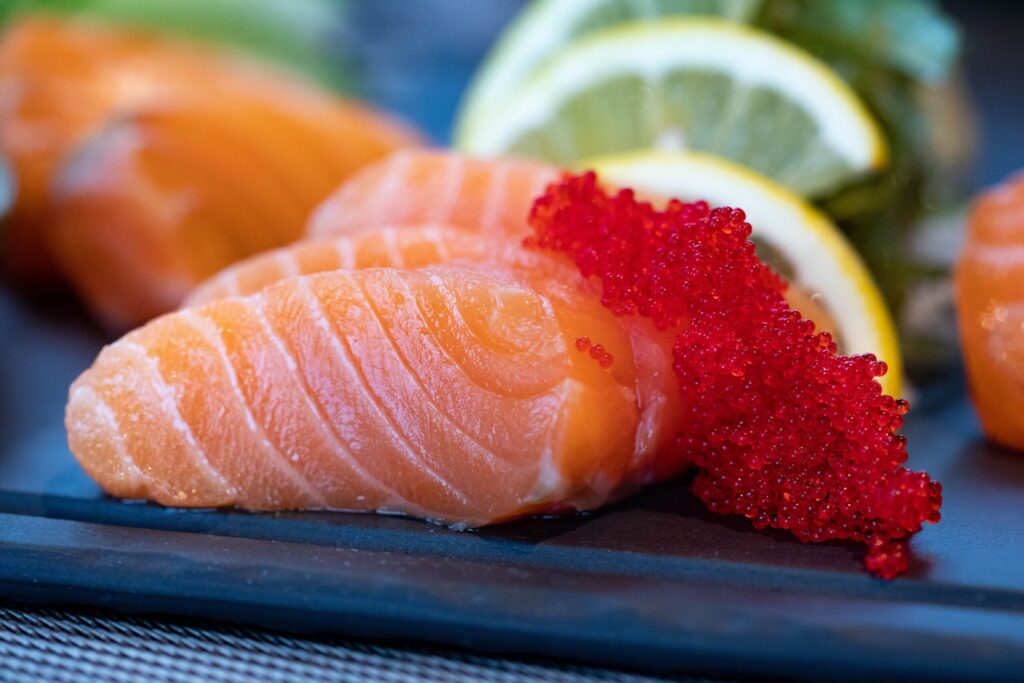 Salmon can also benefit weight management and may reduce the risk of heart disease, as well as protect brain health.
In short, salmon is a great all-around health food. It's incredibly easy and quick to prepare, making it incredibly easy to fit into your routine. 
Let's take a look at the salmon recipes we've picked for you:
Ingredients (4 servings)
180gr pack peeled raw prawns, roughly chopped
4 skinless salmon fillets, chopped into small pieces
3 spring onions, chopped
1 lemon, (zest and juice)
Coriander
60gr mayonnaise or Greek yogurt
4 tsp chili sauce 
2 Little Gem lettuces, shredded
1 cucumber, peeled into ribbons
1 tbsp olive oil
4 burger buns
Directions
Finely chop (or blitz in a food processor) half of your prawns, half of your salmon, your spring onions, half the coriander, and some lemon zest. Mix it all together until you've formed a paste. Place in a bowl, add the rest of your prawns and salmon, season it and combine it. Then, give your paste a patty shape, and put in the fridge to chill for about 10 minutes.


In a bowl, combine both your mayo and chili sauce and season to taste. If you want to, add some lemon juice. In another bowl, set lettuce and cucumber, add a bit of your leftover lemon juice and 1 tsp olive oil.


Fry the burgers in a lightly oiled pan for about 4 minutes on each side, or they start to form a nice crust. You can serve your burgers on toasted burger buns, or with your side salad. Add spicy mayo for an extra kick!
Ingredients (2 servings)
2 carrots
1 large courgette
2 cooked beetroot (dice it)
2 tbsp balsamic vinegar
⅓ small pack dill (chop it)
1small red onion (chop it)
280gr poached or canned wild salmon
2 tbsp capers in vinegar, rinsed
Directions
Peel the carrots and courgette to make spaghetti strips. 


In a bowl, combine your beetroot, balsamic vinegar, chopped dill, and red onion. When they're well combined, pour some of the mix on top of the spaghetti. Take your salmon and turn it into chunks to scatter around your dish, and add some capers and extra dill to taste. 
Brussel sprouts may not be for everyone, but they're worth their weight in gold from a healthy eating perspective. They're packed with a lot of vitamins and minerals and keep your immune system strong to help prevent chronic diseases.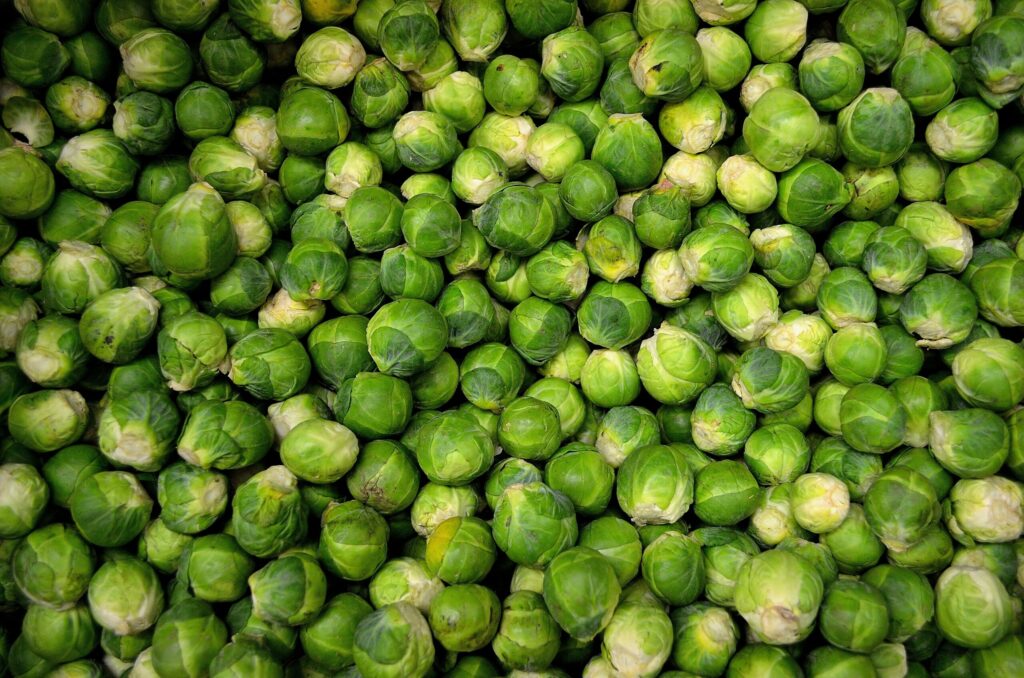 Whether you're a fan or not, there's no denying that this vegetable is one of the healthiest you'll find.
Brussel sprouts have very little fat and calories, and have a really high protein content. They're also easy to find and add to your diet, and they're so versatile they can work either as a side dish or a main course.
We chose two different lunch recipes for you to try – and made sure to choose bold flavors that would win over even the biggest brussel sprout haters.
Ingredients (8 servings)
800gr trimmed Brussels sprouts
100gr butter
100gr peeled, chopped chorizo
100gr roughly chopped almonds
Directions
Boil your Brussel sprouts in salted water for about 2 minutes. Once cooked, leave them to dry naturally.
 In a pan, fry the chorizo and butter for about 5 minutes until the butter has a darker color and the chorizo starts to look brown. 
Add the sprouts to the pan and fry it all together for 6 minutes. When the sprouts are cooked, add the blanched almonds and serve.
Ingredients (6 servings)
600gr brussels sprouts, trimmed
3 tbsp olive oil
180g cooked chestnuts, chopped
2 tbsp pomegranate molasses
A handful of pomegranate seeds
Directions
Shred the sprouts either using a knife, a shredder, or a food processor. Be careful whatever method you use. 


Fry your shredded sprouts over medium-high heat, stirring regularly for about 2 minutes until they feel soft. Add the chestnuts and the pomegranate molasses.


Fry everything for 1-2 extra minutes. Remove from the pan and season to taste. Add some pomegranate seeds when serving.
Chicken is widely available, affordable, packed with protein and other nutrients that help you stay lean, healthy, and active. It's the perfect base for a healthy, weight loss-focused lunch.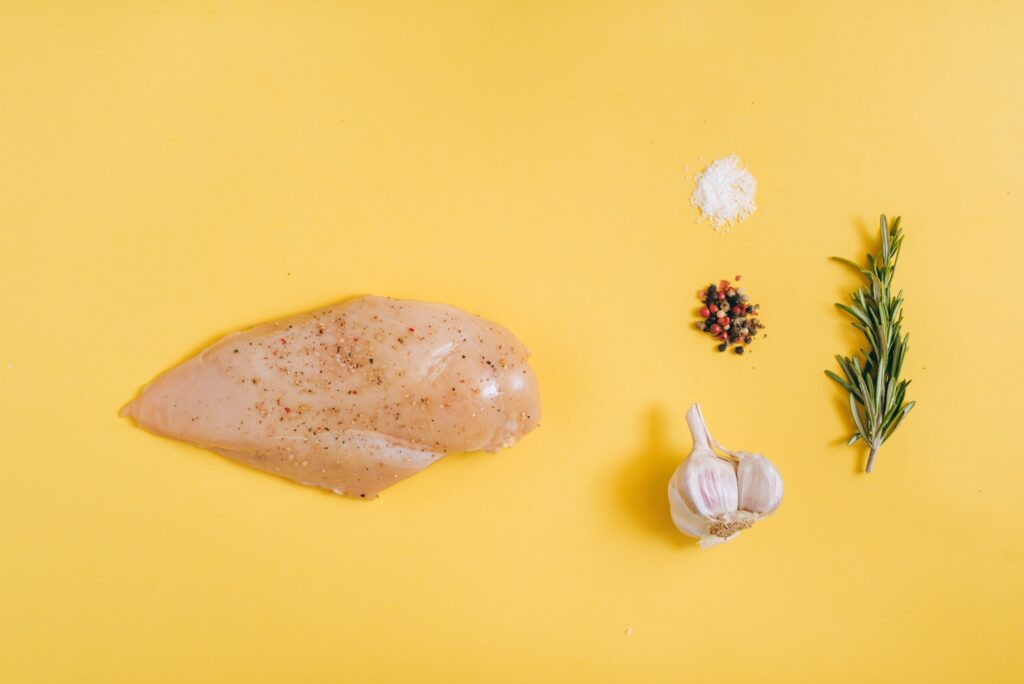 Chicken is high in protein but low in calories, making it a delicious choice for weight-loss lunch prep.
Chicken is also very versatile, affordable, super easy to cook, and loved by nearly everyone. On top of that, it may help muscle growth and support bone health too.
We're bringing you two quick and easy chicken recipes that you'll love.
Ingredients (6 servings)
1/2 cup and 1 tbsp. extra-virgin olive oil
1/4 cup lime juice (3 limes approx)
2 tsp. cumin
1/2 tsp. crushed red pepper flakes
1 lb. boneless skinless chicken breasts
Salt
Freshly ground black pepper
2 bell peppers, thinly sliced
1 large onion, thinly sliced
Tortillas, for serving
Directions
Mix 1⁄2 cup oil, lime juice, cumin, and red pepper flakes in a bowl. Season your chicken, add it to the bowl, and toss to coat. Cool your chicken in the fridge for at least half an hour. 


When the chicken has marinated for at least half an hour, heat your extra tablespoon of oil in a pan. Cook your chicken until the skin starts to look golden, about 8 minutes per side. Let it cool down for 10 minutes and slice it.


Cook your bell peppers and onion until soft (about 5 minutes). Add chicken to your chicken strips and mix together. Serve with tortillas. 
Ingredients (4 servings)
500g skinless boneless chicken thighs
1 lemon, juiced
2 tsp ground cumin
2 tsp paprika
1-2 tsp hot chili powder
200g natural yogurt
2 tbsp vegetable oil
1 large onion, chopped
3 garlic cloves, crushed
1 green chili, deseeded and finely chopped (optional)
thumb-sized piece ginger, grated
1 tsp garam masala
2 tsp ground fenugreek
3 tbsp tomato purée
300ml chicken stock
50g flaked almonds, toasted
Directions
Mix the juice of a lemon, 2 tsp. ground cumin, 2 tsp. paprika, 1-2 tsp. hot chili powder, and 200 gr. natural yogurt. Season this marinade to taste. Cut your chicken into bite-size pieces and mix with the marinade. Let it cool in the fridge for an hour (make sure to cover it).


Cook the onion, garlic, green chili, and ginger using your oil. Cook for about 10 minutes, until soft.


Mix the remaining spices with the tomato purée and cook everything together for 2 more minutes. Add the stock and marinated chicken to the tomato sauce. Cook everything for 15 minutes. Let simmer for about 5 minutes and sprinkle with toasted almonds. You can serve this dish with rice, naan bread, chutney, coriander, and/or lime wedges.
4. Potatoes & root vegetables
Contrary to popular belief, potatoes and root vegetables are packed with nutrients and vitamins, and if used properly, they can support weight loss.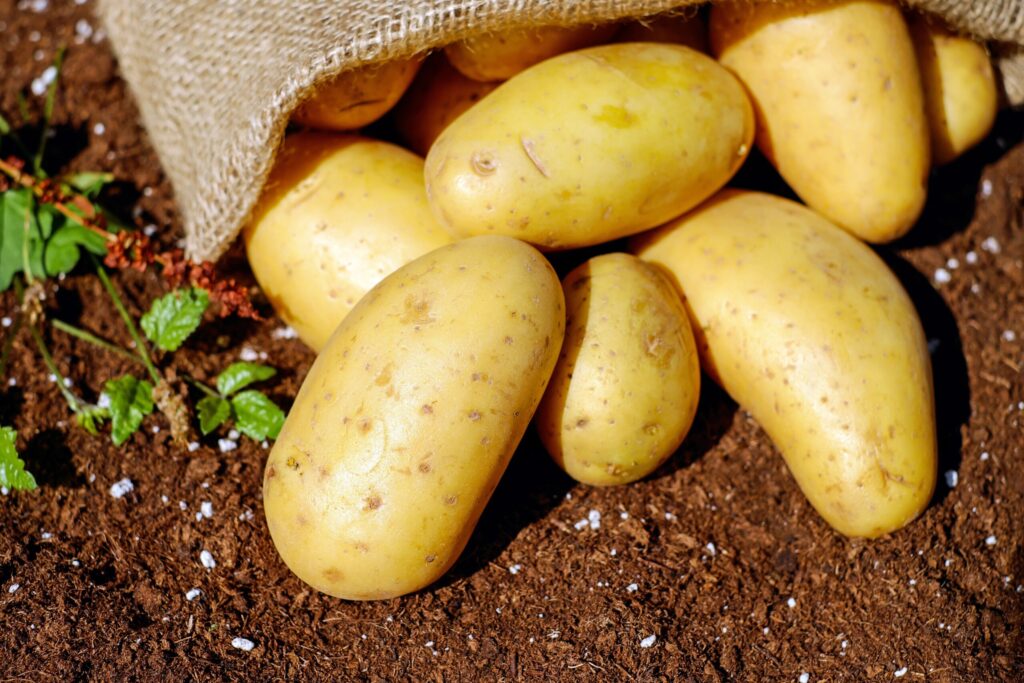 Despite their bad rep, potatoes have few calories and keep you fuller for longer. They may help you extend your workouts as well, fuelling your body to perform even better.
The best ways to cook them if you want to lose weight is by baking, roasting, or oven-baking them. If your goal is weight-loss, you should steer clear of frying your potatoes in unhealthy oils.
We bring you two equally delicious weight loss lunch recipes where potatoes and root vegetables are the main attraction. 
Let's get this started.
Ingredients (1 serving)
4 sweet potatoes
1 tbsp coconut oil
1 ½ tsp cumin seeds
1 large onion, diced
2 garlic cloves, crushed
thumb-sized piece ginger, finely grated
1 green chili, finely chopped
1 tsp garam masala
1 tsp ground coriander
½ tsp turmeric
2 tbsp tikka masala paste
2 x 400gr can chopped tomatoes
2 x 400gr can chickpeas, drained
Lemon wedges and coriander leaves, to serve
Directions
Preheat your oven to 390F. Pierce your potatoes with a fork and place on a baking tray. Keep in the oven for about 45 minutes, until they come out tender when you poke them with a knife.


While your potatoes are roasting, cook the cumin seeds in coconut oil for 1 minute, and add the onion. Cook for extra 7-10 minutes, until it softens.


Cook the garlic, ginger, and green chili for 2-3 minutes adding spices and tikka masala paste to cook for 2 minutes extra. Add the tomatoes and simmer. At this point, add your chickpeas and cook for a further 20 mins until everything has a thick consistency.


Cut your roasted potatoes lengthwise. Add 2-3 spoonfuls of your chickpea curry and drizzle the lemon wedges over it. Sprinkle some coriander at this point too.
Ingredients (2 servings)
2-3 Maris Piper potatoes (about 400g/ 14oz), peeled and coarsely grated
1 medium egg, beaten
1 tsp plain flour
¼ tsp baking powder
½ small onion, finely chopped
6 sage leaves, 2 finely chopped, 4 whole
3 tbsp sunflower or vegetable oil, for frying
Directions
Grate your potatoes and make sure they're dry. Mix them with egg, flour, baking powder, onion, and chopped sage leaves, and season to taste. Cook the mixture in a pan over medium heat, making 4 röstis. Make sure to flatten them down to achieve their disc shape. Cook for 5 minutes on each side until they look golden brown and crisp. 


When you are ready to serve, add whole sage leaves onto a medium heat pan, and cook for about 20 seconds. Use the leaves to topeach rösti.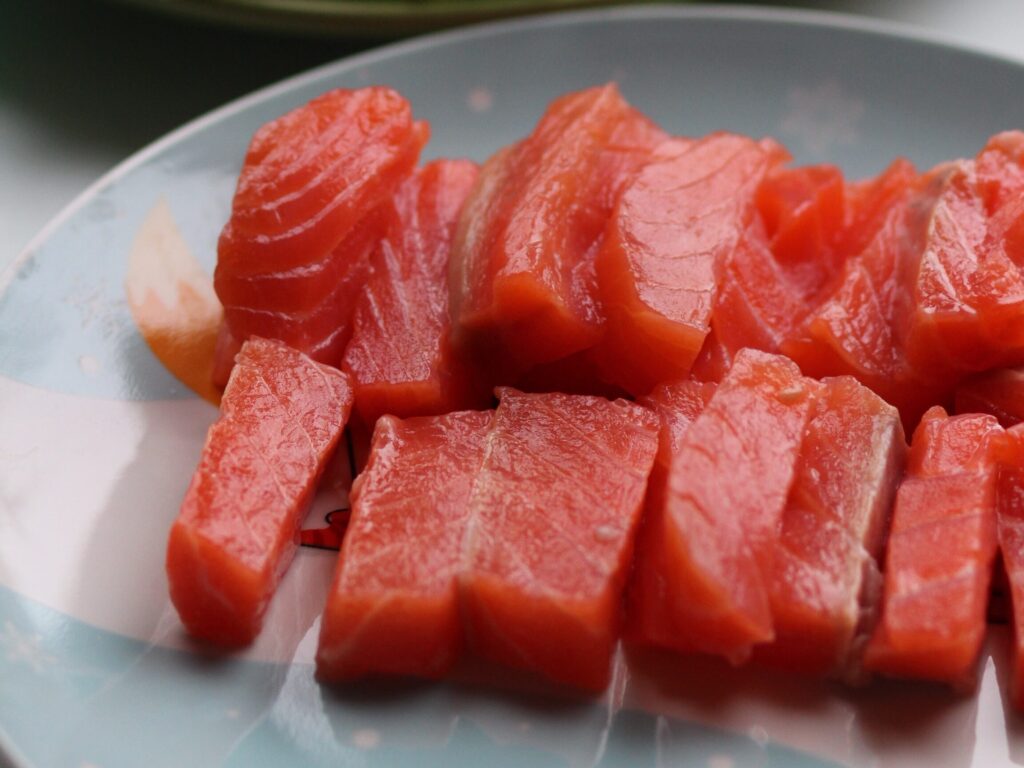 Whether fresh or canned, tuna will always be an ally in your weight-loss journey, and it should always have a space in your cupboard -if you don't have a few cans knocking around already-
Apart from being tasty, tuna has very few calories and high protein levels, which help you lose weight and build those muscles.  
It also gives you an energy boost, helps your bones and skin stay healthy, and strengthens your immune system.
The best thing about tuna is that it is delicious and can be cooked in a variety of ways. Let's take a look at 2 great weight loss lunch recipes built around this superfood.
Ingredients (4 servings)
85gr white bread, torn into pieces
198gr can sweetcorn, drained
2 x cans tuna in water, drained well
25gr grated cheddar
3 spring onions, finely chopped
1 egg, beaten
2 tbsp vegetable oil
Wholegrain bread rolls, lettuce, salsa
Directions
Crumb the bread, and finely chop the sweetcorn (or add it to a food processor). In a bowl, put the chopped corn, the rest of the whole corn, tuna, cheese, spring onions, and season. Add the egg little by little until you get a mixture that is sticky enough to shape into four size burgers.


Cook the burgers for 5 minutes on each side. Put them in wholemeal buns to serve. Add lettuce or any sauce of your choosing.
Ingredients (1 serving)
1 large egg
80gr green beans
1 tomato , amber or red, quartered
120gr can tuna in spring water
1½ -2 tbsp French dressing
Directions
If your egg is fresh, boil it for 6-12 minutes, depending on how runny you like your yolk. Steam your green beans for about 5 minutes, until they're soft and crunchy. Cool your boiled egg and steamed beans under cold water. 


Tip the beans into a sealed container or lunch pot. Add chopped tomato, tuna, and your egg. Drizzle some of the French dressing, and seal until ready to eat.
Do these weight loss lunch ideas actually work?
As long as you include them in your diet consistently, the answer is yes.
Skipping lunch -or any meal, for that matter-  won't help you lose weight.
Lunch is an important meal in your day-to-day life. A healthy lunch keeps you active during the afternoon and gives your body the energy it needs to carry you throughout the day.
If you skip lunch, there's a big chance you'll experience intense episodes of hunger, especially if your breakfast hasn't been great.
If you go too long without eating, the chances of you overeating in your next meal are sky-high, and it's quite likely that you'll feel guilty about it too.
Following a new routine is hard, but it's the first step towards building healthy, long-lasting habits.
Our Miboko app is the perfect companion in your weight loss journey. You can track your progress and log your meals, and you'll also receive tailored recommendations based on how your body metabolizes different food.
Miboko's world-first sensor tracks the way your body reacts to different foods, offering personal suggestions based on real data to help you achieve your fitness goals.
Miboko will help you build a new relationship with food, so that you can look and feel your best without giving up the meals you love.
Sign up to our mailing list and we'll let you know when our world-first sensor is ready for customers.