If you start your day with a delicious and healthy breakfast, the chance of you sticking to your weight-loss plan and choosing healthier meals is higher.
We've put together a list of the best 5 foods you should add to your breakfast to lose weight, and some nice recipes to go with them.
You don't need to stick to flavorless cereals or a hard-boiled egg in the mornings to lose weight.
Including these foods in your breakfast will help you reach your goals faster, but if you want to make sure you stay on track and hit your goals consistently, our Miboko app is the next step.
Miboko's world-first technology monitors your blood sugar and gives you specific advice on the foods that work for you.
With Miboko's help and guidance, looking and feeling your best stops feeling like a neverending marathon and turns into a walk in the park.
We're in the final stages of refining the app and, by signing up now, you can be among the first to know when it's live and ready for you.
What are the best weight loss foods to have for breakfast?
We've crunched the numbers and done the research. Below are some of the best foods to add to your breakfast to help hit your weight loss goals.
1. Eggs
Eggs are a great source of protein that also packs a lot of vitamins and minerals. They're a great way to start your day, and you can cook them in a variety of ways.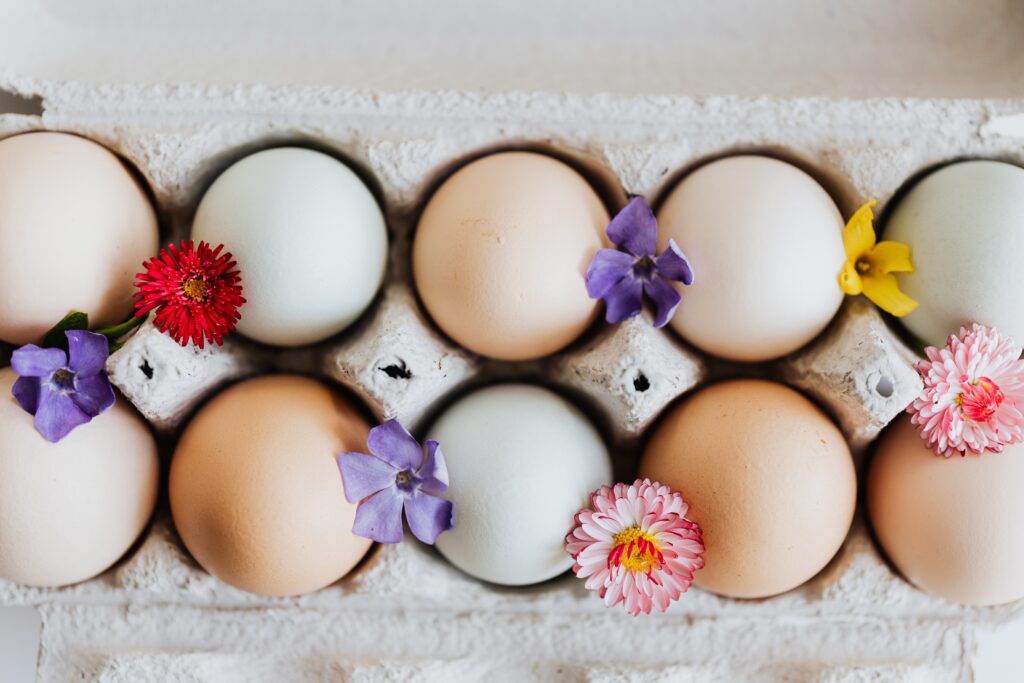 Apart from being a very versatile food – you can have them sunny side up, scrambled, poached, boiled… – they are a source of protein and vitamins that helps you stay strong and healthy.
They are highly nutritious, may support heart and eye health and, of course, weight management.
Egg whites have very few calories, and you can include them in many meals, such as omelets, pancakes, milkshakes, or desserts.
We chose two different recipes for you to try: a savory one and a sweet one.
Let's get started with a breakfast burrito recipe. With 415 calories per serving, it's both healthy and delicious, and sure to leave you full for longer.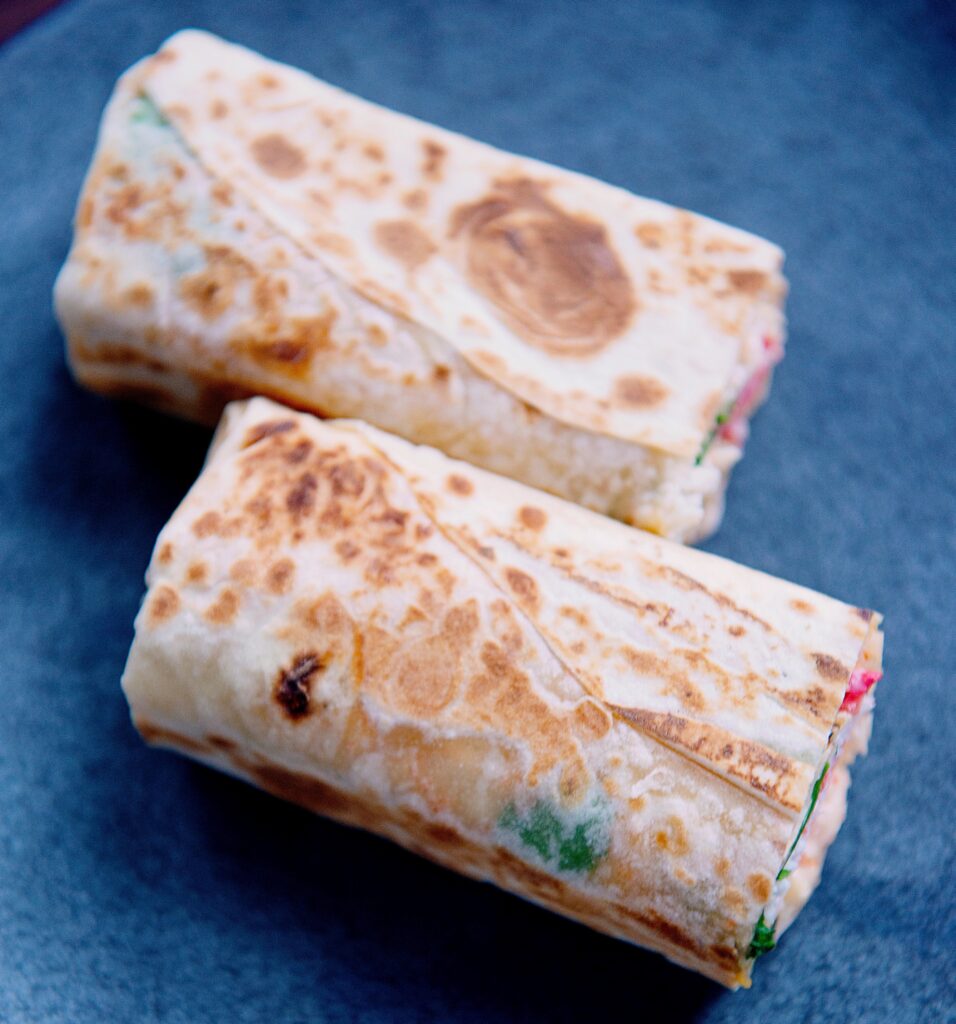 Ingredients (4 servings)
1⁄2 Tbsp olive oil
2 cooked chicken sausage links, diced
1 red onion, diced
6 eggs, lightly beaten
Salt and black pepper to taste
Chopped cilantro
4 whole-wheat tortillas, 10″
1 cup black beans, rinsed, drained, and heated
1⁄2 cup shredded Cheddar or Jack cheese
1 avocado, pitted, peeled, and sliced
Salsa
Pickled Jalapeños, optional
Directions
Heat the oil in a pan (medium heat). Cook the sausage and onion for 5 minutes until lightly browned.
Turn the heat to low. Add the eggs to the pan and cook them, stirring constantly until the eggs are firm but still a bit moist. Once this is achieved, remove everything from the heat, season while still warm, and add cilantro.
Heat the tortillas for 45 seconds in the microwave. Alternatively, you can also heat them individually in a pan. Don't add any oil, the pan must be dry.
Arrange the eggs, beans, cheese, and avocado in the tortillas. Roll them tightly and top them with salsa, more cilantro, and jalapeños (optional).
If you're looking for a lower-calorie option (or a sweet one), check out this oatmeal pancakes with cinnamon apple recipe. With just 260 calories per serving, it's both a strong candidate for the clean plate club and a very healthy option to start your day with. Winner-winner!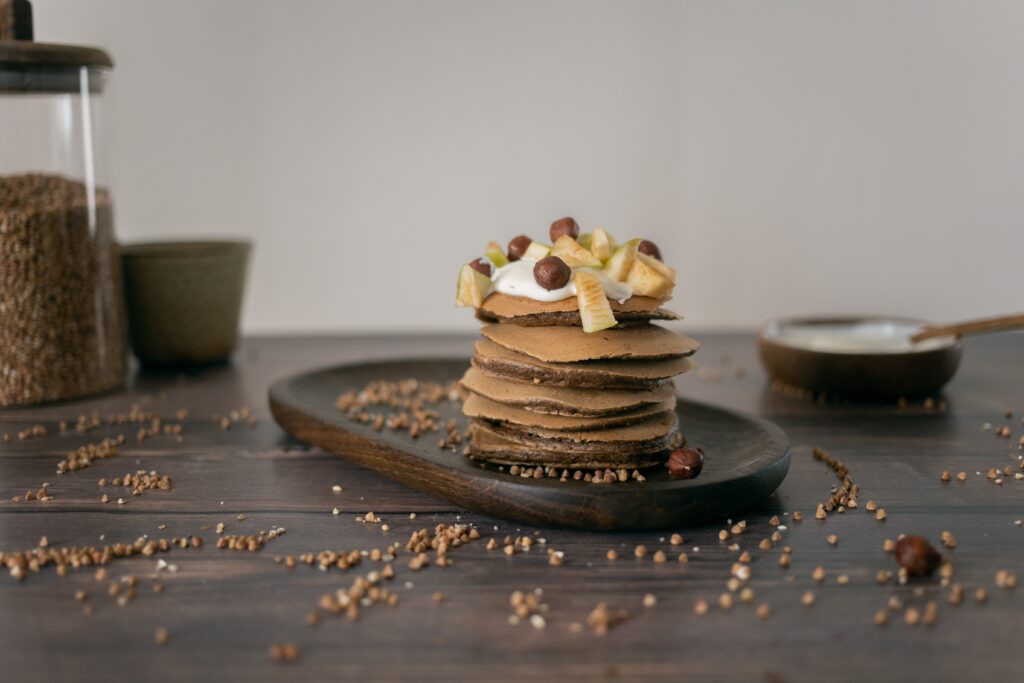 Ingredients (4 servings)
1 1⁄2 cups buttermilk
3⁄4 cup instant rolled oats
3⁄4 cup whole wheat flour
2 Tbsp milk
1 Tbsp melted butter
1 1⁄2 tsp baking powder
1⁄2 tsp baking soda
Pinch of cinnamon (plus 1⁄8 tsp for the apples)
Pinch of nutmeg
1 Granny Smith apple, peeled, cored, and chopped
1⁄2 cup apple juice
2 Tbsp brown sugar
Butter or cooking spray
Confectioners' sugar
Directions
In a bowl combine oats, flour, milk, butter, buttermilk, baking soda, baking powder, a pinch of cinnamon, and nutmeg. Stir the ingredients to mix them, and let the mixture rest for a few minutes.
Add the apple, apple juice, brown sugar, and remaining cinnamon to a pan, bringing it to a simmer. Cook until the apple is soft and the liquid looks thicker.
Preheat your oven (200°F). Heat a pan over medium heat. Add a bit of butter/ cooking spray before each round of pancakes, scoop 1⁄4-cup of batter into the pan, and spread into thin, even circles. Cook until you see small bubbles starting to appear in the top of the batter, and then flip and cook for another 2 minutes. Put the pancakes in the oven to keep them warm while you finish cooking. Pour the warm apples and a bit of confectioner sugar when serving.
2. Bananas
Bananas are cheap, versatile, and full of vitamins and nutrients. They're also easy to add to your packed lunch, and they keep you fuller for longer.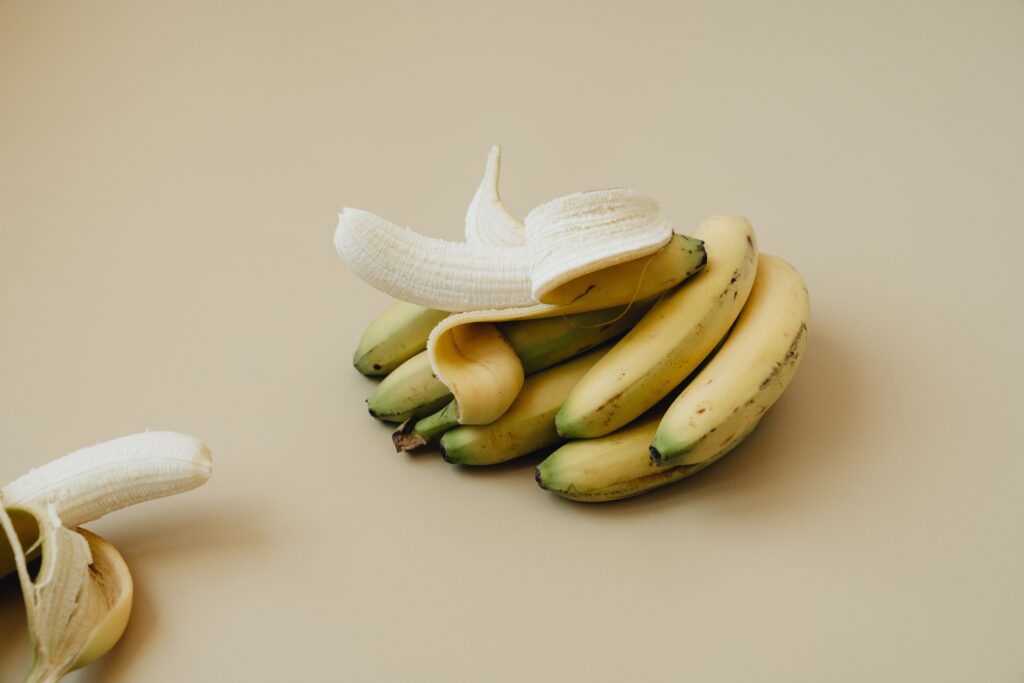 Bananas may improve blood sugar levels, support digestive, kidney, and heart health, and aid weight loss.
They have very few calories, help you feel full, and may also support exercise recovery.
Bananas are really easy to add to your diet, and they can be cooked in a variety of ways.
We chose two different breakfast recipes for you to try.
Let's get started with a banana bread recipe. With 350 calories per serving, this banana bread recipe is perfect if you're craving something sweet for breakfast. Let's dig in!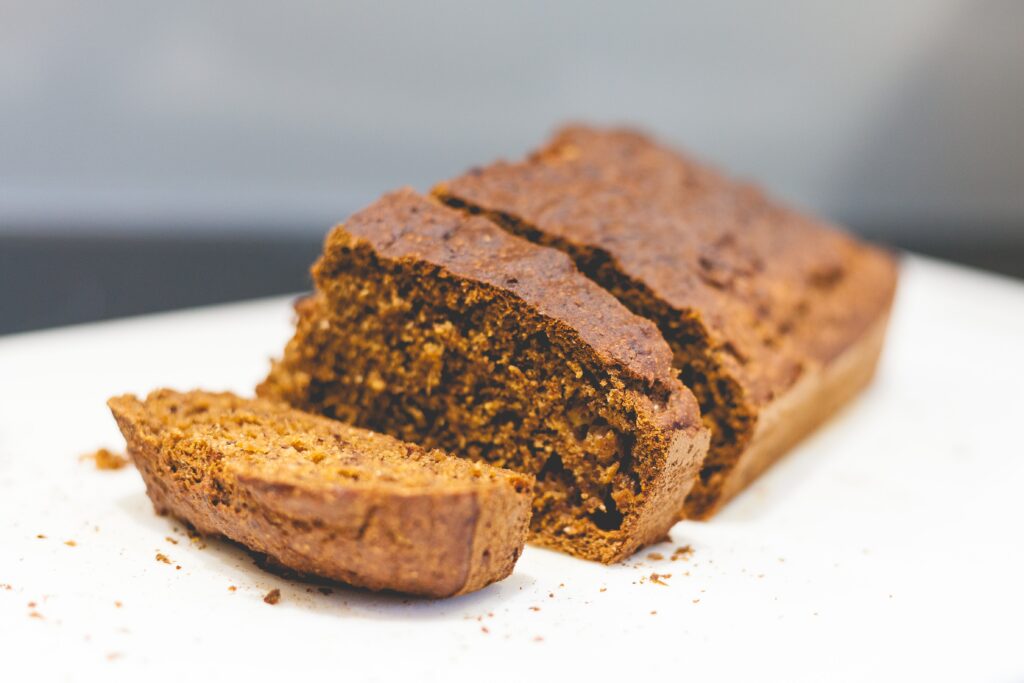 Ingredients (4 servings)
4 very ripe bananas, peeled and mashed (about 2 cups)
1⁄2 cup Greek-style yogurt
4 Tbsp butter, melted
2 large eggs
1 tsp vanilla
2 cups flour
3⁄4 cup sugar
1⁄2 cup toasted walnuts, coarsely chopped
1 tsp baking soda
1 tsp baking powder
1⁄2 tsp ground cinnamon
1⁄2 tsp salt
Directions
Preheat your oven to 350°F and use butter to grease a 9″ x 5″ x 3″ (approx) loaf pan.
In a mixing bowl, add the bananas, butter, yogurt, vanilla, and eggs. Stir all ingredients together.
In a different bowl, mix the flour, baking soda, baking powder, cinnamon, sugar, walnuts, and salt. Slowly add the dry ingredients to the wet mixture from your first bowl, and stir until everything is fully incorporated.
Pour the batter into the pre-greased pan.
Bake at the bottom of the oven for about 50 minutes, until a toothpick inserted into the center of the bread comes out clean. Let the bread cool before enjoying it!
If you're looking for something tasty but with fewer calories, we've got your back! This chocolate-coconut-banana smoothie is a great way to kickstart your day. With only 183 calories per serving, this smoothie is packed with vitamins, minerals, and antioxidants, it's super easy to make, and it tastes fantastic.
Let's take a look at the recipe.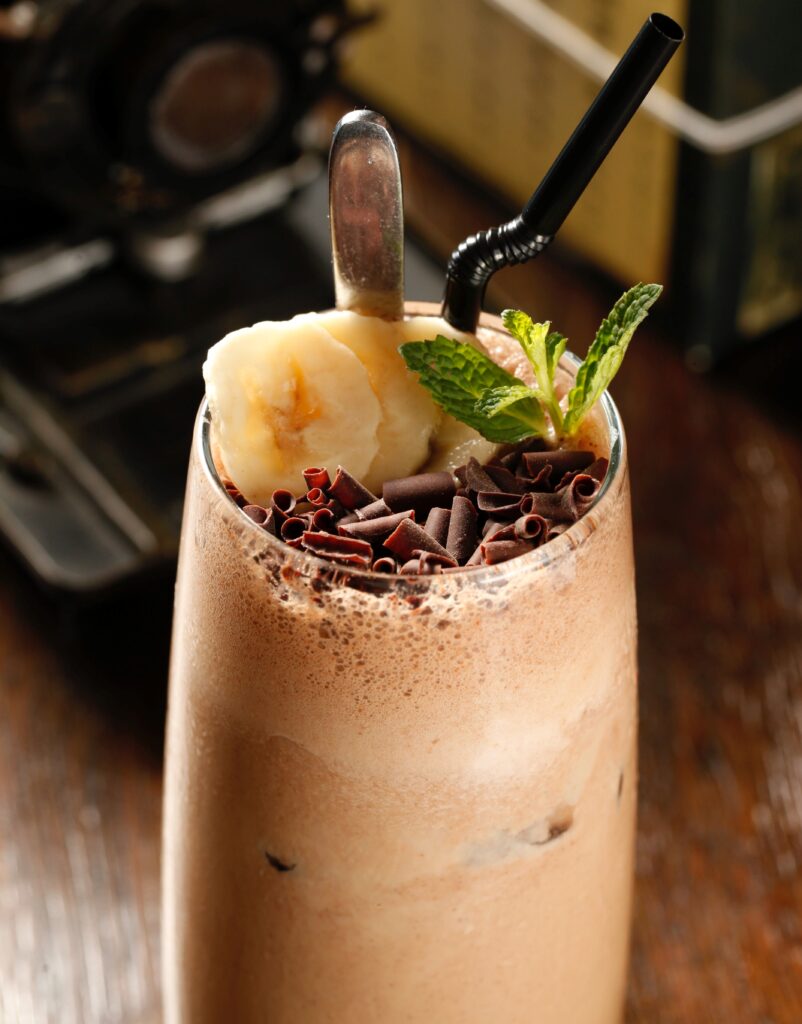 Ingredients (2 servings)
5.3 ounces plain Greek yogurt
1 small banana, peeled, sliced, and frozen
1⁄2 cup ice
1⁄2 cup refrigerated unsweetened coconut milk
1 Tbsp unsweetened cocoa powder
1 Tbsp honey
1⁄2 tsp vanilla
1 Tbsp unsweetened flaked coconut, toasted
1 Tbsp finely chopped dark chocolate
Directions
Combine the Greek yogurt, banana, ice, coconut milk, cocoa powder, honey, and vanilla in a blender. Blend the ingredients together for 2-3 minutes or until smooth.
Top with toasted coconut flakes and chopped dark chocolate.
3. Avocados
Avocados have become an essential ingredient in many kitchens all over the world, and with the amount of goodness it packs, we can't say we're surprised about it.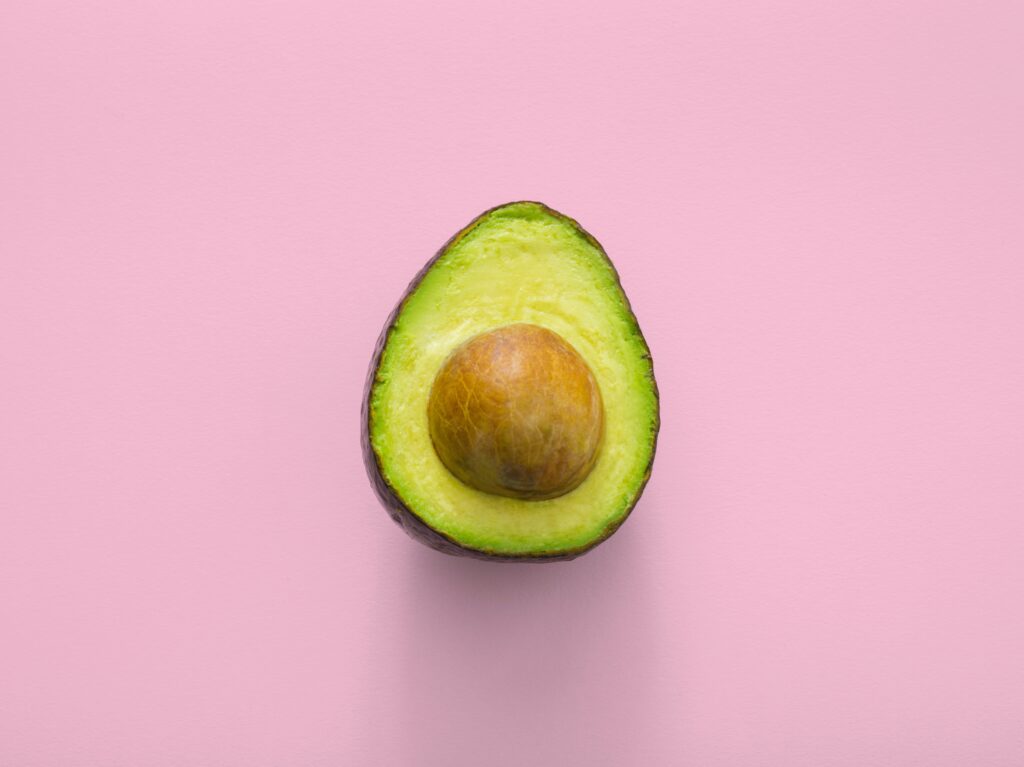 Avocados aren't just delicious, they're great for you.
Half an avocado counts as one of your five-a-day, they may support eye health, lower cholesterol, regulate appetite, and keep your eyes healthy.
Their high fiber content makes them a great food to support your weight loss and metabolic health.
We're bringing you two great mess-free avocado recipes that'll be ready in minutes.
Our first recipe is a classic avocado on toast with a poached egg. With only 316 calories, this dish makes for a delicious, filling breakfast that will leave you fuller for longer.
Let's check this recipe out.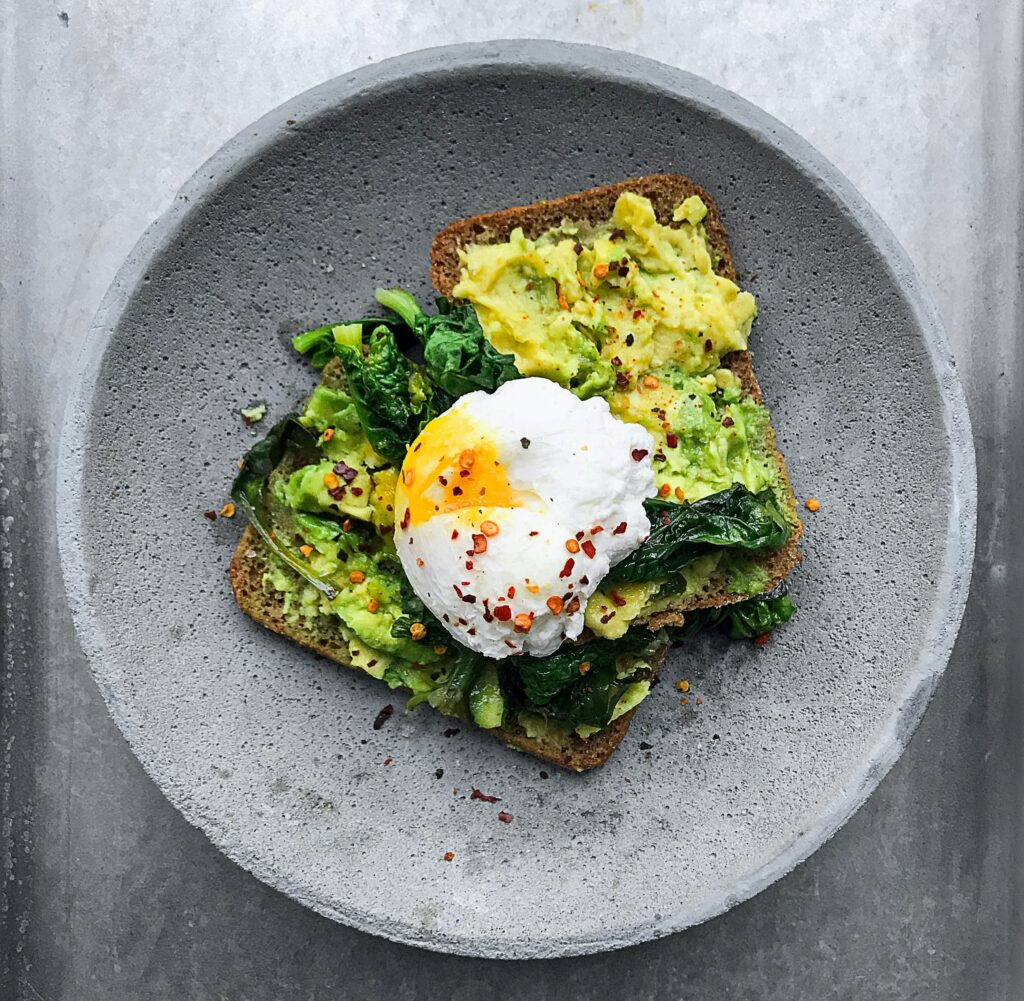 Ingredients (2 servings)
2 eggs
1 avocado
2 slices of wholegrain bread
a pinch fine sea salt
a pinch of ground black pepper
a pinch of paprika
1 tbsp grated Cheddar cheese
1 tsp chopped parsley
Directions
In a pan, bring salted water (add a pinch of salt) to a boil.
Carefully crack the eggs and place them into the water, one at a time.
Poach the eggs for 3 minutes to get a runny yolk. Leave for longer if you don't like your yolks runny. While your eggs are poaching, toast the whole grain bread.
Cut the avocado in half and scoop it. Then, chop it and spread it on the toast.
Remove the eggs from the water, preferably with a spatula
Place the eggs on top of the avocado in your toast, and season with salt, pepper, and paprika. Add some chopped parsley.
Do you want to try something different with avocados? Check this avocado breakfast bakes recipe. With only 274 calories, these bakes pack all the goodness of avocados and all the flavor of grilled bacon and cheese, and they'll be ready in 20 minutes!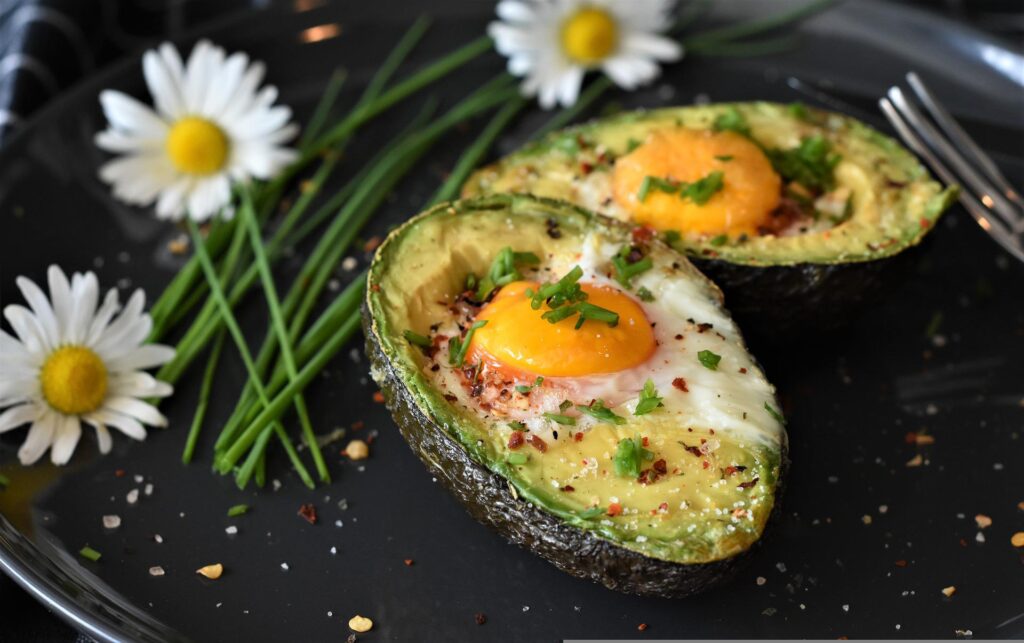 Ingredients (2 servings)
1 avocado
2 eggs
1 piece of bacon, cooked
2 pinches of shredded cheese, any kind you like
Directions
Preheat your oven to 425ºF.
Slice the avocado and take the pit out. Scoop out enough to fit an egg. (you can save the avocado you scooped out, or eat it), and place the halves on a muffin tin to keep them in an upright position.
Crack an egg and place it in each avocado half.
Sprinkle a good pinch of cheese over each egg.
Crumble the bacon slices, sprinkle them over the cheese, bake for 15 minutes and serve hot.
4. Natural peanut butter
Natural peanut butter doesn't contain sugar, vegetable oil, or trans fats. This type of peanut butter is a great source of protein and antioxidants, low in carbs, and high in healthy fats.
Peanut butter contains a variety of vitamins and minerals like iron, potassium and vitamin B5 (the vitamin that synthesizes cholesterol), keeping you healthy and active.
With a carb content of 20%, peanut butter is a low-carb food, and it's perfect to include in your diet in moderation.
Its protein content makes it a fantastic addition to your cupboard, and its fiber content helps balance your digestive health.
We bring you two equally delicious recipes where PB is the star of the show, let's take a look!
With 452 calories per portion, this peanut butter overnight oats are a great breakfast option for those with a big day ahead of them. Because you will be preparing them the night before, they're virtually no time-consuming and 100% mess-free.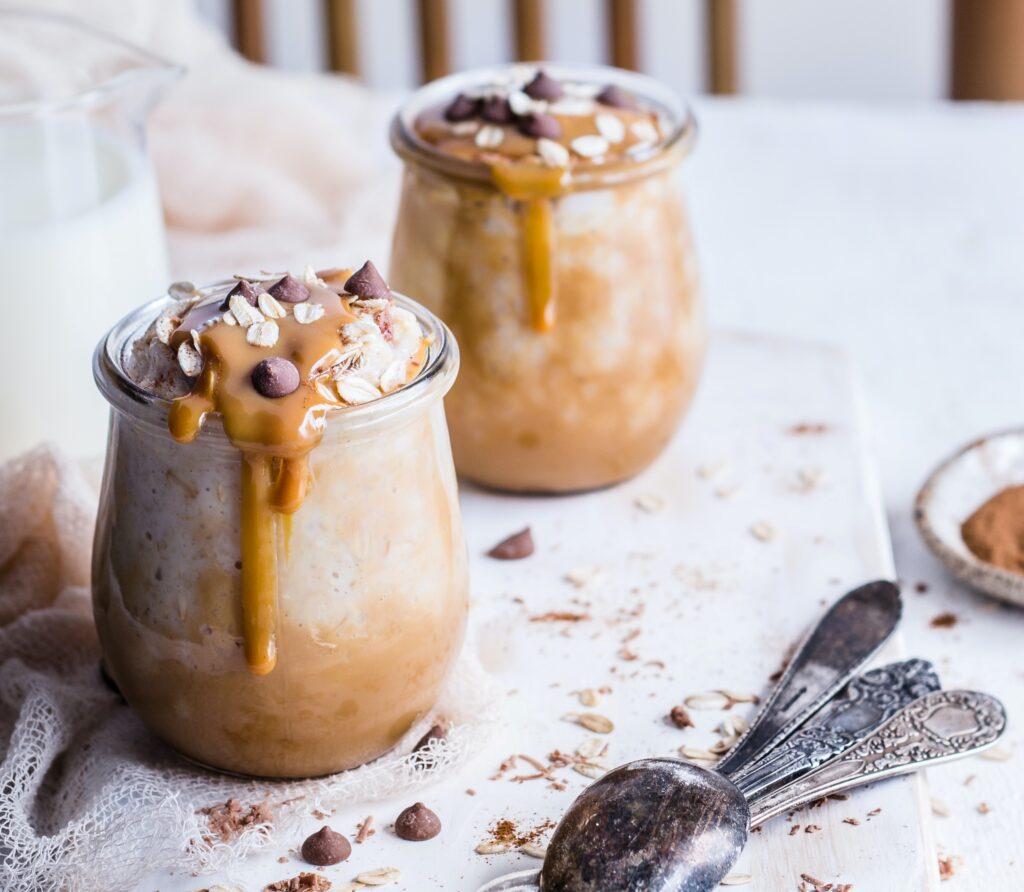 Ingredients (1 serving)
1/2 cup unsweetened plain almond milk
3/4 Tbsp chia seeds
2 Tbsp natural salted peanut butter or almond butter
1 Tbsp maple syrup
1/2 cup gluten-free rolled oats
Toppings (optional)
Sliced banana, strawberries, or raspberries
Flaxseed meal or additional chia seed
Granola
Directions
Add almond milk, chia seeds, peanut butter, and maple syrup to a mason jar, and combine together using a spoon.
Add oats and stir a few more times. Make sure the oats are soaked in almond milk.
Cover with a lid and leave it in the refrigerator overnight (or for at least 6 hours) to set.
The next day, or after 6 hours, use some of the toppings above to garnish your breakfast.
Our next recipe is peanut butter strawberry banana quesadilla. With just 278 calories per serving, this is a great breakfast idea for all ages, and it's definitely a go-to recipe when you're craving something sweet.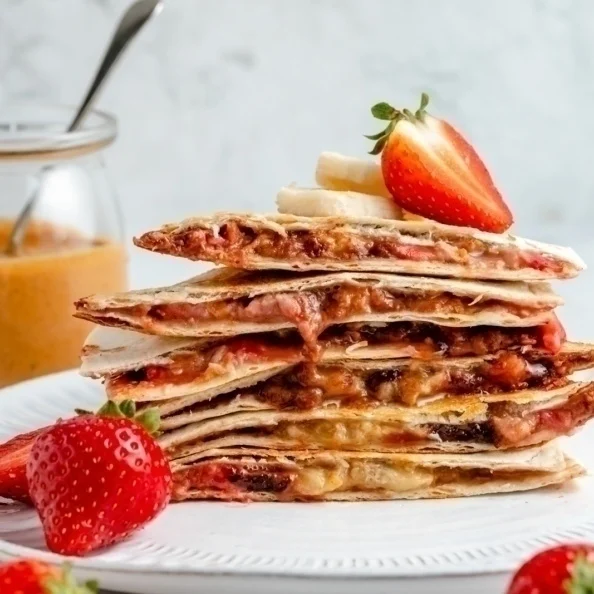 Ingredients (2 servings)
Nonstick cooking spray or olive oil
2 tablespoons natural creamy peanut butter
2 whole-grain tortillas (or gluten-free, grain-free, regular)
1 banana, sliced
4-5 strawberries, sliced
1/8 teaspoon cinnamon
Optional: 1 tablespoon chocolate chips
Directions
Heat a previously greased pan over medium heat.
Coat each tortilla evenly with 1 tablespoon of peanut butter. Put both banana and strawberry slices over the tortilla, and add a bit of cinnamon and chocolate chips.
Put the other tortilla on top, peanut butter side down. Press gently to help them stick together. When the pan is hot, add your quesadilla and cook it for about 2 minutes per side. Cut into the quesadilla 3 times to make 6 triangles. Serve 2/3 slices each.
5. Berries
Berries are loaded with vitamins, minerals, antioxidants, and much more. Blueberries are a superfood; cherries are low in calories and high in fiber, and strawberries contribute to good heart health.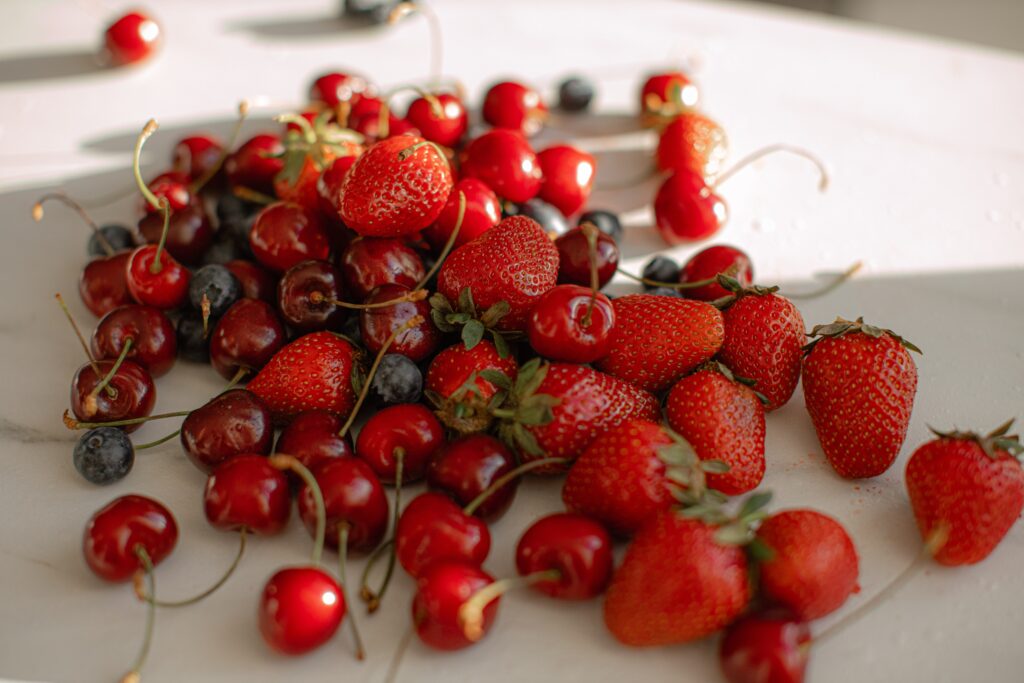 Berries make a great low-calorie snack, and their high fiber content helps you maintain good digestive health.
They fight inflammation, may help reduce cholesterol levels, may protect against cancer, and can be enjoyed in almost every type of diet.
Berries are delicious and can help reduce your cravings. Let's take a look at the recipes to go with them!
With 203 calories per serving, this metabolism-boosting blueberry smoothie recipe is sure to kickstart your morning in the best possible way.
It's very quick and easy to make, it's filling, flavourful, and full of all the good stuff your body needs to stay healthy.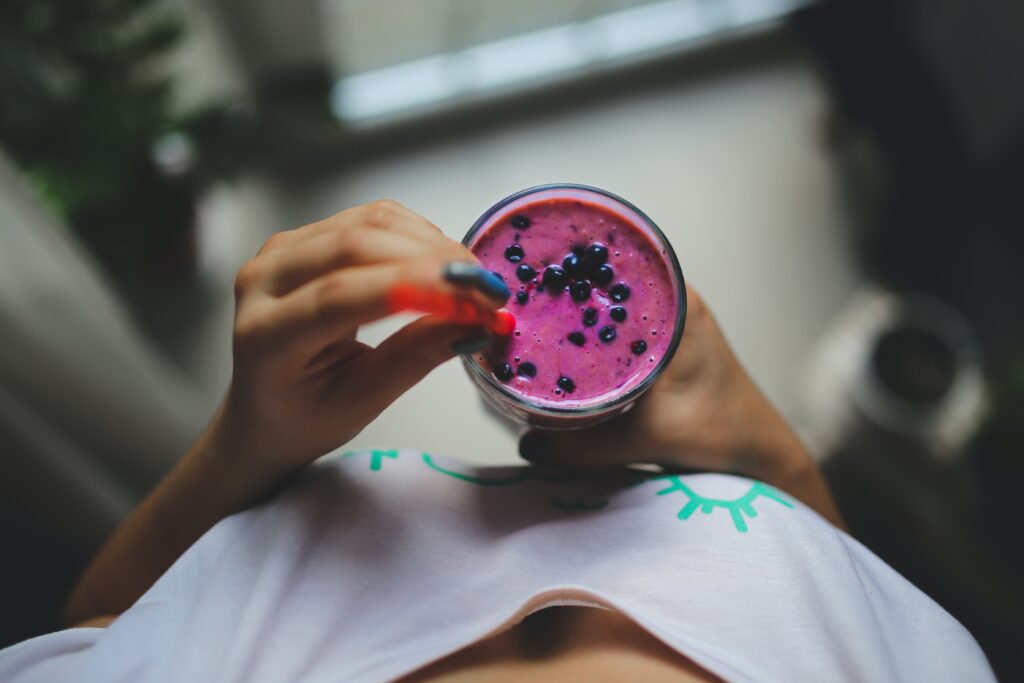 Ingredients (1 serving)
1 – 2 tbsp protein powder (scoops)
1/2 cup unsweetened almond milk (plain or vanilla or 1⁄2 cup canned full fat coconut milk)
1/2 cup ice cubes
1/2 cup blueberries (fresh or frozen)
1/4 cup baby spinach leaves (optional)
1 banana
1 tablespoon ground flaxseed or chia seeds
Directions
Place all ingredients in a blender or food processor.
Blend them until smooth. Adjust the amount of water to get your desired consistency. Serve immediately.
Another great recipe to bring berries to is this Greek yogurt fruit bowl. With just 82 calories per serving, this is a great option to start your morning with and make sure you stay on track throughout the day. It's super quick to make too, so this recipe works even if you're in a hurry!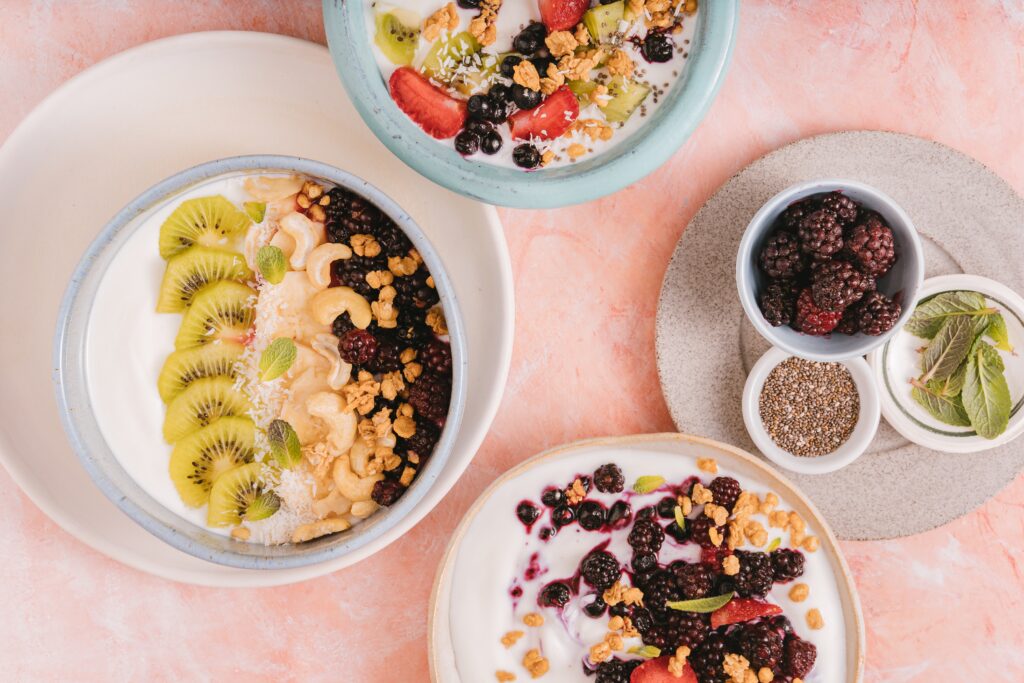 Ingredients (2 servings)
1 tablespoon honey or maple syrup
Directions
Split 1/2 cup of Greek Yogurt into two bowls.
Add honey or maple syrup, and combine.
Choose one of the toppings below and add it to your bowl.
Toppings
Berries and cream – combine 1/3 cup of mixed berries with 1 teaspoon vanilla extract and 1 teaspoon of honey. Add to your bowl. (+24 calories)
Peaches, blueberries, and almonds – add 1/2 sliced peach, 2 tablespoons of blueberries, and 2 tablespoons of almonds to your bowl. (+54 calories)
Apples and pecans– add 1/4 cup thinly sliced apples and 1 tablespoon of pecans to your bowl. Add a teaspoon maple syrup. (+72 calories)
Peanut butter and bananas – add half a sliced banana and 1 tablespoon of peanut butter to your bowl. (+73 calories)
Strawberries and chocolate – add 3 sliced strawberries, 1 tablespoon of fat-free chocolate syrup, and 1/4 cup of chocolate granola to your bowl. (+87 calories)
Strawberry banana – add 1/2 a sliced banana, and 3 chopped strawberries to your bowl. Add 1 teaspoon honey. (+43 calories)
Do these weight loss breakfast ideas work?
Skipping breakfast will not help you lose weight.
In fact, a number of studies have shown that people who have breakfast regularly are more health-conscious than people who don't, which results in making better food choices throughout the day and losing more weight than those who just skip it.
throughout the day, and losing more weight than those who just skip it.
Starting your day with a healthy breakfast may help prevent heart disease, helps you get in your fiber, keeps you satiated for longer, and maintains your brain active.
Sometimes accountability is tough, and you can find that following these routines is hard work on your own.
Our Miboko app is the perfect support for you. You can log and plan your meals, and you'll receive personalized suggestions for different food based on your metabolism.
Miboko's world-first sensor tracks how your body reacts to different types of food, offering personal recommendations based on actual data to help you hit your goals.
Miboko helps you understand which breakfast foods are healthy for your body, and will fuel you in a way that enables smarter food decisions throughout the day.
If you're looking for a tool to optimize your relationship with food, so that you can look and feel your best without giving up the foods you love, sign up to learn more about Miboko now.
Sign up to our mailing list and we'll let you know when our world-first sensor is ready for customers.